In our never-ending journey to dial in the best sleep routine ever, it's easy to be overwhelmed by options. The good news is that sometimes more options = more opportunities to get a great night of sleep. That's why we love our collection of multi-sound sleep machines. If you're the type of person who likes as many choices as possible, then these are perfect for you. In this post, we'll break down the different kinds of multi-sound machines and hopefully help you find one that suits you (and your families) sleep needs.
MULTI-SOUND MACHINE VS. FAN-BASED
Typically there are two kinds of white noise machines on the market: a fan-based sound machine and a multi-sound machine. Yogasleep actually created the very first fan-based white noise machine in 1962, with the invention of the Dohm. The Dohm features a real fan inside and is powered by a small motor. Fan-based noise is popular because it mimics the sound of a familiar fixture in bedrooms - a ceiling or box fan or the whir of an A/C unit. (Fittingly, the sound of a running air conditioner in a hotel room was the original inspiration for the creation of the Dohm.) Fan-based sound machines are great because they are simple, easy-to-use, and fill the room with the rich, soothing sound of rushing air without the cool breeze. That simplicity also means there are fewer sound and volume options - the Dohm has two speeds and may not get loud enough for some. That's where multi-sound machines come in. 
Multi-sound machines play sounds from high-fidelity pre-recorded audio tracks. Because the sounds are digital, the options for soundtracks are endless. Another benefit of the multi-sound machines is additional features such as timers and night lights. They're also more travel-friendly and feature several compact and portable options. (Of course, you can take your Dohm on vacation with you, but it does require a nearby electrical outlet to power, unlike a USB-rechargeable sound machine.) 
In an ideal world, we all live near the beach and are gently lulled to sleep by the sound of crashing ocean waves. Realistically, a multi-sound machine can help you bring the outside world into your bedroom to enhance sleep and relaxation. If you're a nature-lover, there are endless settings inspired by the natural world like ocean waves, rainfall, and thunderstorms. If you would rather daydream about living in a cabin in a remote locale, you can even choose from the soothing cadence of chirping crickets, bird sounds, or a crackling campfire.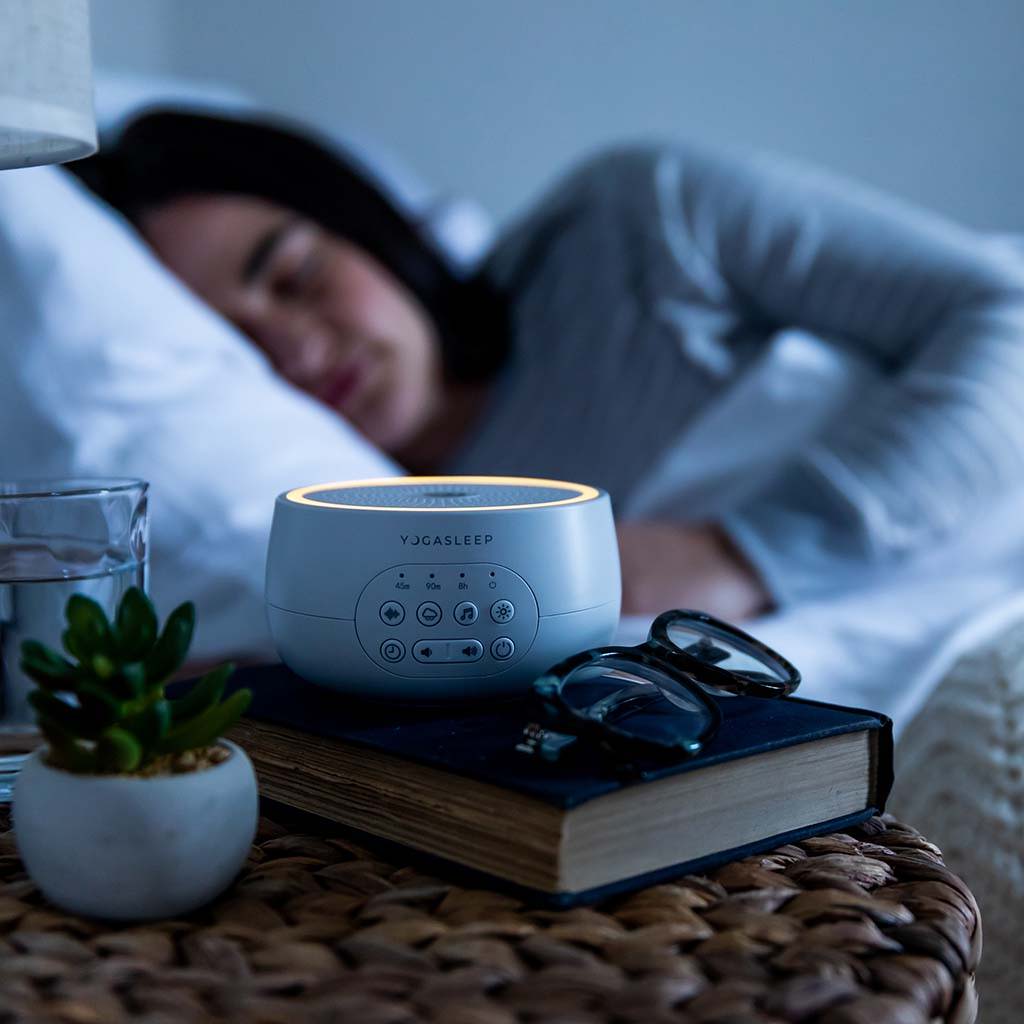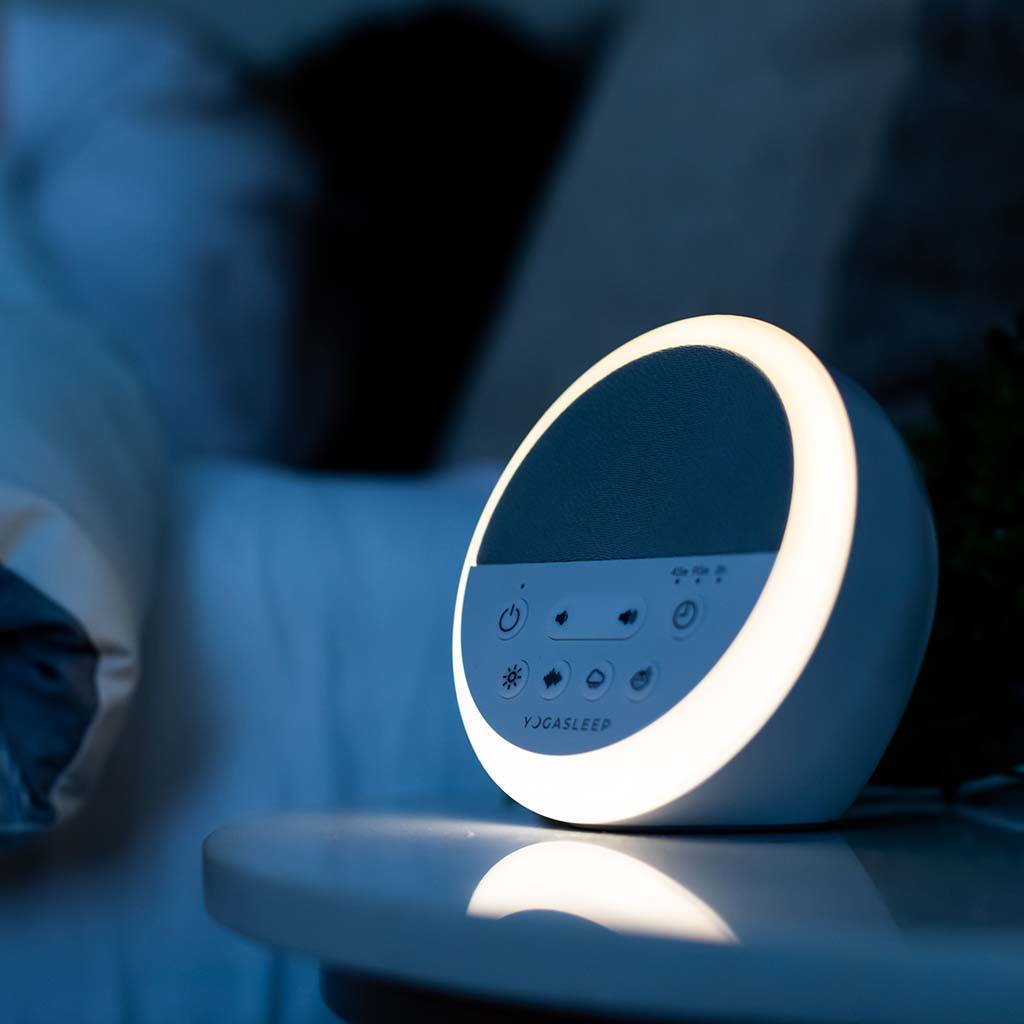 MULTI-SOUND MACHINES FOR CHILDREN
As a mom or new parent, establishing healthy sleep routines is the foundation of supporting your child's developmental growth and ensuring you don't lose your mind during those early childhood years. (Read how to establish a healthy sleep routine for baby here.) Every child is different and their sleep routines and preferences will vary. Having as many tools in your sleep "toolbox" that work to help your family sleep is crucial - especially during the first two years of your life. A recent Finnish study of 5,700 children showed that most young children experience a wide array of sleep changes within the first two years of their life. They also found there are wide variations between the amount of and quality of sleep for each child under two. The good news is that all of these changes in their sleep are leading them to a more consistent sleep routine by their 2nd birthday.  
Back to that "sleep toolbox." A multi-sound machine is a powerful tool in infant and toddler sleep because it gives you so many options to try out during those early, rocky years in sleep. You never know what soundtrack will work in your child until you try it. If fan-based sounds of white noise and brown noise work to quickly calm your child, you'll want to look at the Nod White Noise Machine and Night Light, Soundcenter, Duet, Travelcube, and the Travel Mini. These units all have several options for fan sounds that mimic the rich, room-filling sound of our Dohm sound machine. 
An exciting new development in multi-sound machines for children is the addition of lullabies and sleep songs to the track options. For example, the Nod sound machine includes six lullabies including classics like "Twinkle Twinkle Little Star." Playing a calming, lyric-free sleep song leading up to bedtime or during story time can help your toddler wind down and get ready to sleep. 
The sound machines with multiple soundtracks can grow with your baby and become fun inspiration for imaginative play as their interests develop over the years. One Yogasleep employee reports that their tweens enjoy setting up a "spa" role play with the Meditate, Relax, and Restore tracks of the Whish Multi-Sound Machine as the soundtrack. You'll never know what creative play a sound machine may inspire in the mind of a child! 
We hope we've outlined the many benefits and uses of a multi-sound machine and illuminating ways they can bring better sleep, relaxation, and inspiration into your life. Let us know on our Instagram, @yogasleepbaby: How do you use a multi-sound machine? 
---
---
Follow us on Instagram @yogasleepusa