Green noise is a rising trend in the world of sleep aids, and it has garnered significant attention on social media platforms — specifically TikTok. Similar to white or pink noise, green noise has a unique sound profile that mimics the natural sounds of the environment. Let's explore the concept of green noise, its benefits for sleep, and how to find the perfect sleep color for your individual needs. We'll discuss the science behind green noise, why it's trending on the internet and social media, and who can benefit from its use (which hopefully includes you!).  
Green noise is a type of sound characterized by its even distribution of energy across the frequency spectrum. It is similar to white noise in that it contains a wide range of frequencies, but unlike white noise, green noise emphasizes the lower frequencies, creating a more natural and soothing sound. This sound profile is comparable to the ambient noise that is present in natural environments, such as the rustling of leaves, the sound of water flowing, or the hum of distant traffic. Green noise can be generated by various sources — the ideal source being sound machines — and can be customized to suit individual preferences. 
Why Is Green Noise Suddenly So Popular?
Green noise has become a popular sleep aid, and its rise in popularity can be attributed to various factors, including the growing interest in natural and holistic approaches to health and wellness. Social media platforms, especially TikTok, have played a significant role in popularizing green noise as users share their experiences using it to improve their sleep quality. Additionally, the COVID-19 pandemic has led to increased stress and anxiety, and many people have turned to green noise as a natural way to calm their minds and promote relaxation. The accessibility of green noise apps and recordings also contributes to its popularity, allowing users to easily access and customize the sound to suit their individual preferences. 
How Does Green Noise Help You Sleep?
Green noise can help improve sleep quality by masking unwanted sounds and creating a more calming and relaxing environment. It can promote the production of delta brain waves, which are associated with deep sleep and relaxation. Green noise can also reduce the perception of tinnitus, a ringing or buzzing sound in the ears that can interfere with sleep. Furthermore, green noise has been shown to have a positive impact on the autonomic nervous system, which regulates heart rate, blood pressure, and other bodily functions. By reducing stress and promoting relaxation, green noise can help you fall asleep faster, sleep more deeply, and wake up feeling more refreshed. 
Who Might Benefit from Green Noise?
Green noise can benefit a wide range of individuals, including those with sleep disorders, anxiety, and stress. People who have trouble falling or staying asleep due to environmental noise or racing thoughts can benefit from green noise, as it can mask unwanted sounds and promote relaxation. Additionally, those who suffer from tinnitus can find relief from the constant ringing or buzzing sound that can interfere with sleep. Green noise has also been shown to have a positive effect on individuals with anxiety and stress, promoting relaxation and reducing the impact of stress on the body. However, it is important to note that some individuals may not benefit from green noise, and in some cases, it may even worsen certain sleep disorders. As with any new sleep aid, it's essential to consult with a healthcare professional before incorporating green noise into your bedtime routine. 
How to Find the Perfect Sleep Color for You
Choosing the perfect sleep color can significantly impact your ability to fall asleep and stay asleep. One way to find the perfect sleep color for you is to experiment with the different types of ambient noise, including white noise, pink noise, brown noise, and of course, green noise. Yogasleep sound machines offer a wide variety of sound options, which can help you figure out what works best for your sleep routine. White noise, which consists of all audible frequencies, can help block out distracting sounds and promote relaxation. Pink noise, which has more power in the lower frequencies, can create a soothing, steady sound that lulls you to sleep. Brown noise, which has even more power in the lower frequencies, is a deeper, more rumbling sound that can be especially effective for those who have trouble falling asleep. Finally, as you probably know by now, green noise is a combination of white and pink noise and can create a calming, natural sound that some people find particularly soothing. Experimenting with these different types of ambient noise can help you find the perfect sleep color for your needs. 
Green noise is a natural and effective way to improve sleep quality and promote relaxation. Its unique sound profile mimics the natural environment, making it a soothing and calming sound that can mask unwanted noises and promote deep sleep. With its rising popularity on social media, green noise is more accessible than ever, with a range of apps and recordings available to customize the sound to individual preferences. Whether you have trouble falling asleep, suffer from tinnitus, or simply want to improve your sleep quality, green noise is a natural and safe option to consider. So, try incorporating green noise into your bedtime routine and see how it can improve your sleep and overall well-being.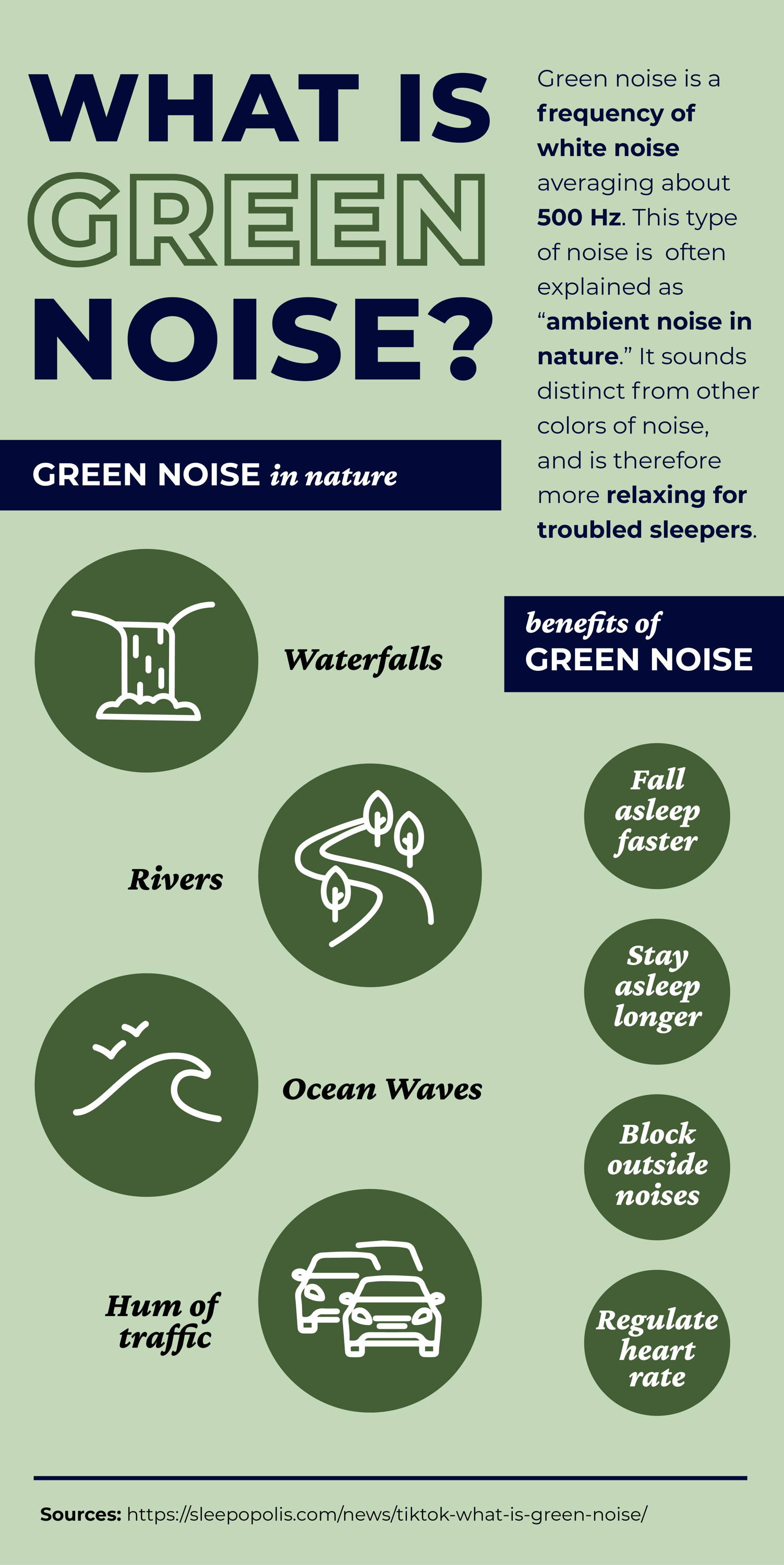 Disclaimer: The information on our site is NOT medical advice for any specific person or condition. It is only meant as general information. If you have any medical questions and concerns about your sleep, please contact your healthcare provider.