Looking for the best baby products in 2023? Check out our comprehensive list of must-have items for parents this year! From essential safety gear to calming gadgets, get ready to have a happy and safe journey into parenthood.
As you prepare for the arrival of your bundle of joy in 2023, there are certain favorite baby products that can make all the difference in how smooth and stress-free your transition into parenthood is. Check out our checklist of top baby products for your 2023 nursery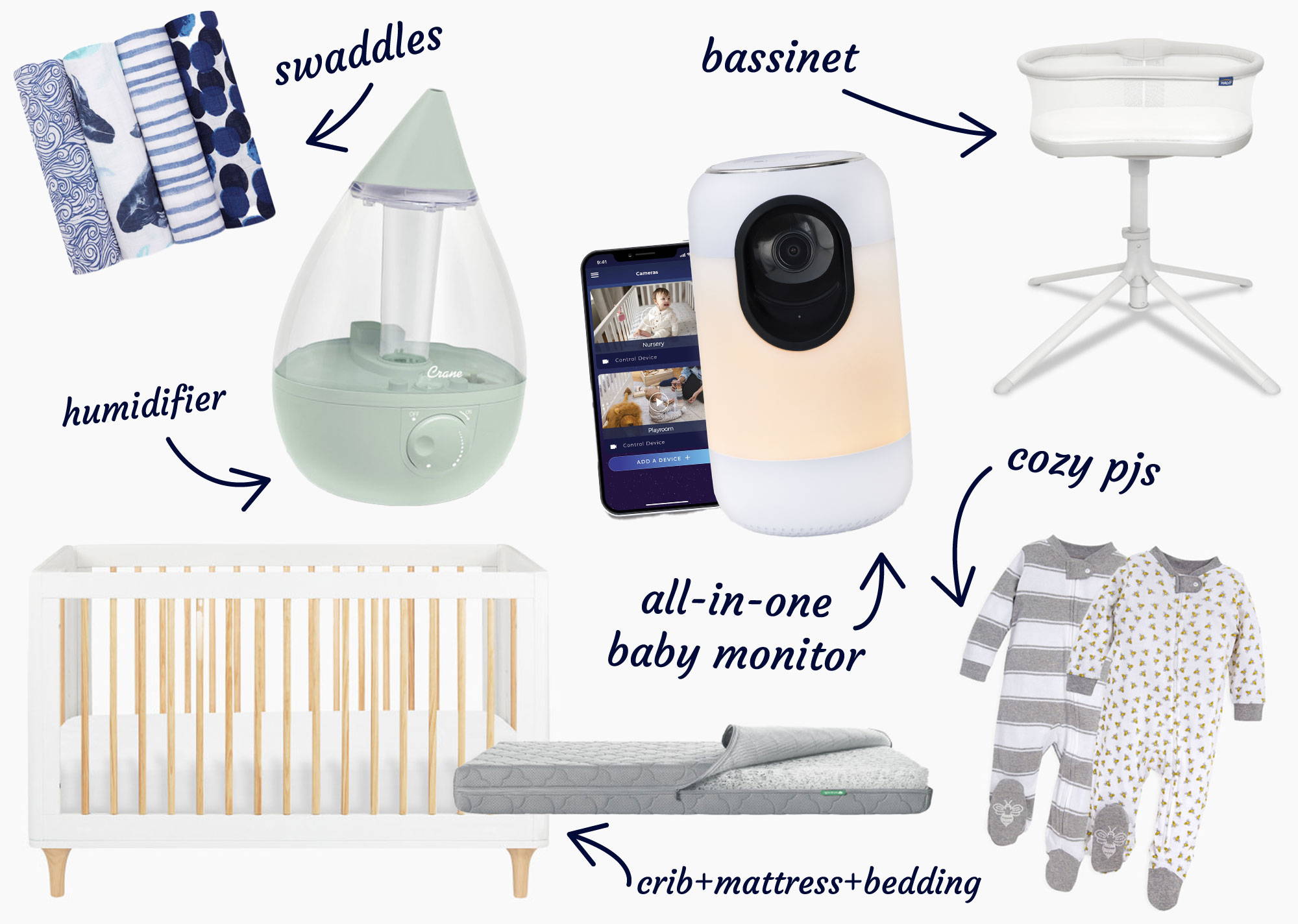 The Best Baby Sleep Gear for a Good Night's Rest
When preparing for a new baby, it's important to have the right gear to ensure a comfortable and safe sleep environment. Some essential baby sleep gear to consider adding plenty of to your registry are swaddles and pajamas to keep baby warm and secure—pro tip: choose zipper PJs instead of snap-closure for easier middle-of-the-night diaper changes.  
Adding a baby monitor to your list is a great way to keep an eye on your little one's ZZZs from a distance. One great option is the Yogasleep Ohma All-in-One Baby Monitor, which offers a high-res video display, dimmable color night light, and a variety of comforting features like white noise, lullabies, and a 2-way intercom.  
Other nighttime necessities include a humidifier to help keep the air moisture levels in your baby's room at a comfortable level, and a crib or bassinet with a well-fitting mattress and a few sets of fitted crib sheets. Make sure to choose a firm and flat sleep surface and a water-resistant and breathable crib mattress cover to ensure your baby's safety.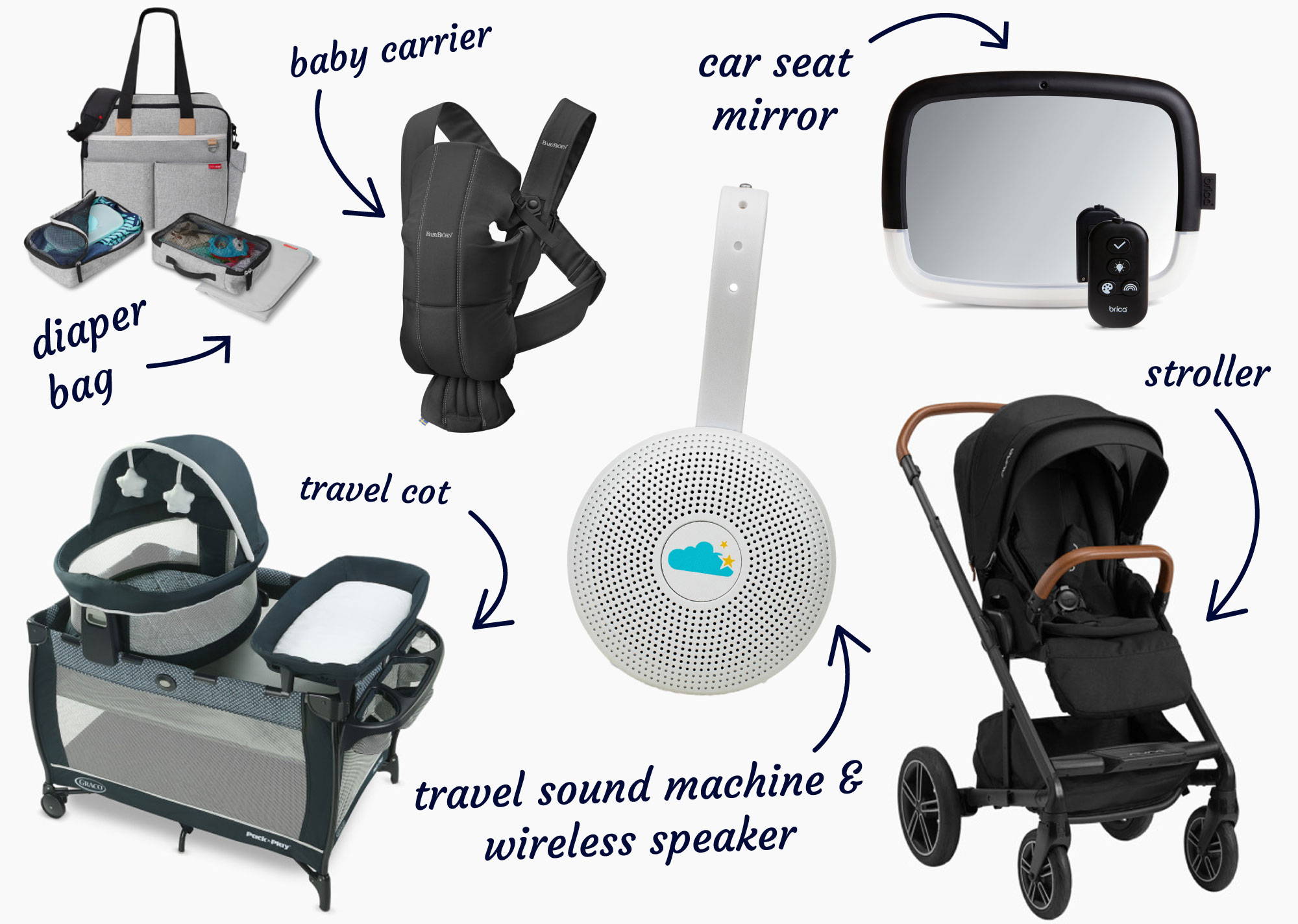 Must-Have Travel Gear for Little Globetrotters
When traveling with a baby, having the right gear can make all the difference. A stroller is traditionally an essential item for navigating the world with a baby, from neighborhood sidewalks to international airports. A baby carrier can be a less bulky and equally convenient way to tote your little one around while keeping your hands free. 
Don't let travel interrupt naptimes and add to your diaper bag a travel sound machine such as the Hushh+, a portable battery-operated sound machine with a range of calming sounds, a wireless speaker, and the ability to attach to a stroller or car seat easily. Speaking of sleep, while venturing out into the great unknown, a travel bassinet or pack-n-play provides a safe and comfortable place for your baby to sleep.  
For tiny tots on the Great American Road Trip, a backseat car mirror allows you to keep an eye out while driving without having to pull over to constantly check in. 10 out of 10, highly recommend.  
These items will make traveling with your baby more convenient and easier and are worth considering for your baby registry. 
The Essential Gear for Keeping Baby Clean and Fed
When it comes to feeding, bottles are essential. Even if you intend to breastfeed exclusively, you may find yourself in need of bottles at some point. For breastfeeding parents, you will want to make sure you have a breast pump. Many insurance plans will cover the cost of a new electric breast pump per pregnancy, so check with your provider. Many moms swear by also keeping a manual breast pump on hand for convenience or emergencies. And if you intend to use bottles at any point, it's also handy to have a bottle warmer around to ensure proper and even re-heating of breast milk or formula, just right for baby's sensitive tastebuds. 
As for diapering, you'll want to stock up on diapers (cloth or disposable), diaper rash cream, and wipes. It's also a good idea to have a changing pad and a designated spot for dirty diapers, such as a smell-proof diaper disposal can. To keep your little one clean and happy, you'll want a baby bath tub, towels and washcloths, baby soap and shampoo, and a soft-bristled brush or comb. 
If your baby experiences bath time fussiness, consider placing a white noise machine like the fun fish-shaped Sea Soother sound machine across the room to provide a calming atmosphere of white noise.  
Bringing Joy to Your Baby's World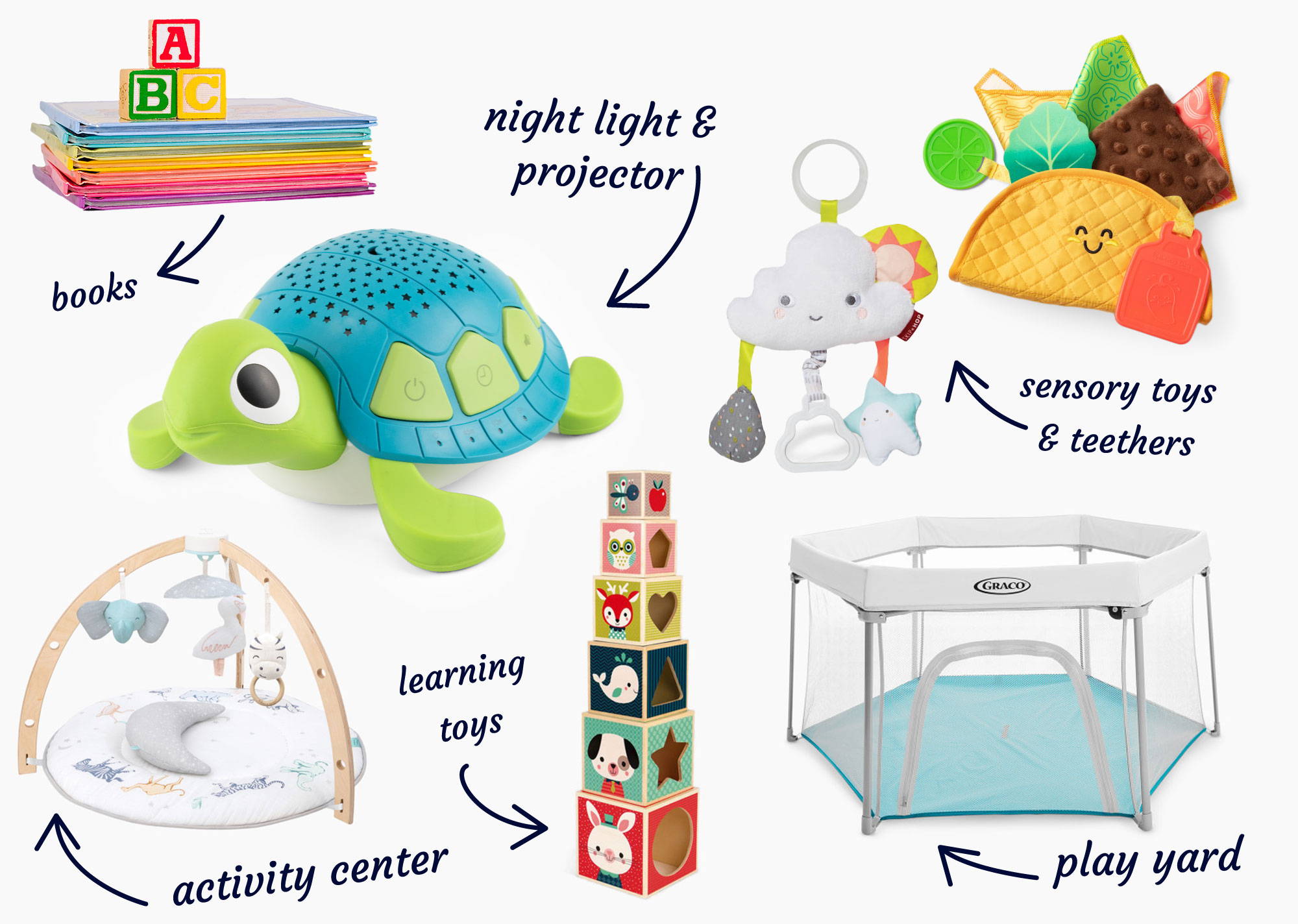 Baby Registry Picks for Playtime Fun and Learning
When it comes to playtime and learning, there are a few items you'll want to make sure to add to your baby registry. An activity center is a great way to keep your little one entertained and engaged, with a variety of toys and activities to explore. Books are another important addition—not only are they fun to look at and listen to, but they also help to encourage language development and a love of reading.
Stroller toys and teethers are great for on-the-go entertainment, and a collapsible play yard is a convenient way to create a safe and contained space for play wherever you are.
Within your nursery, look for bright and colorful décor items that will contribute to your child's sensory development. We love the Soundscene projector for its combination of mesmerizing ceiling light projection, night light, and comforting white noise.
These items will help to bring joy and learning to your baby's world and make playtime fun and enjoyable for both you and your little one.
Growing with Your Little One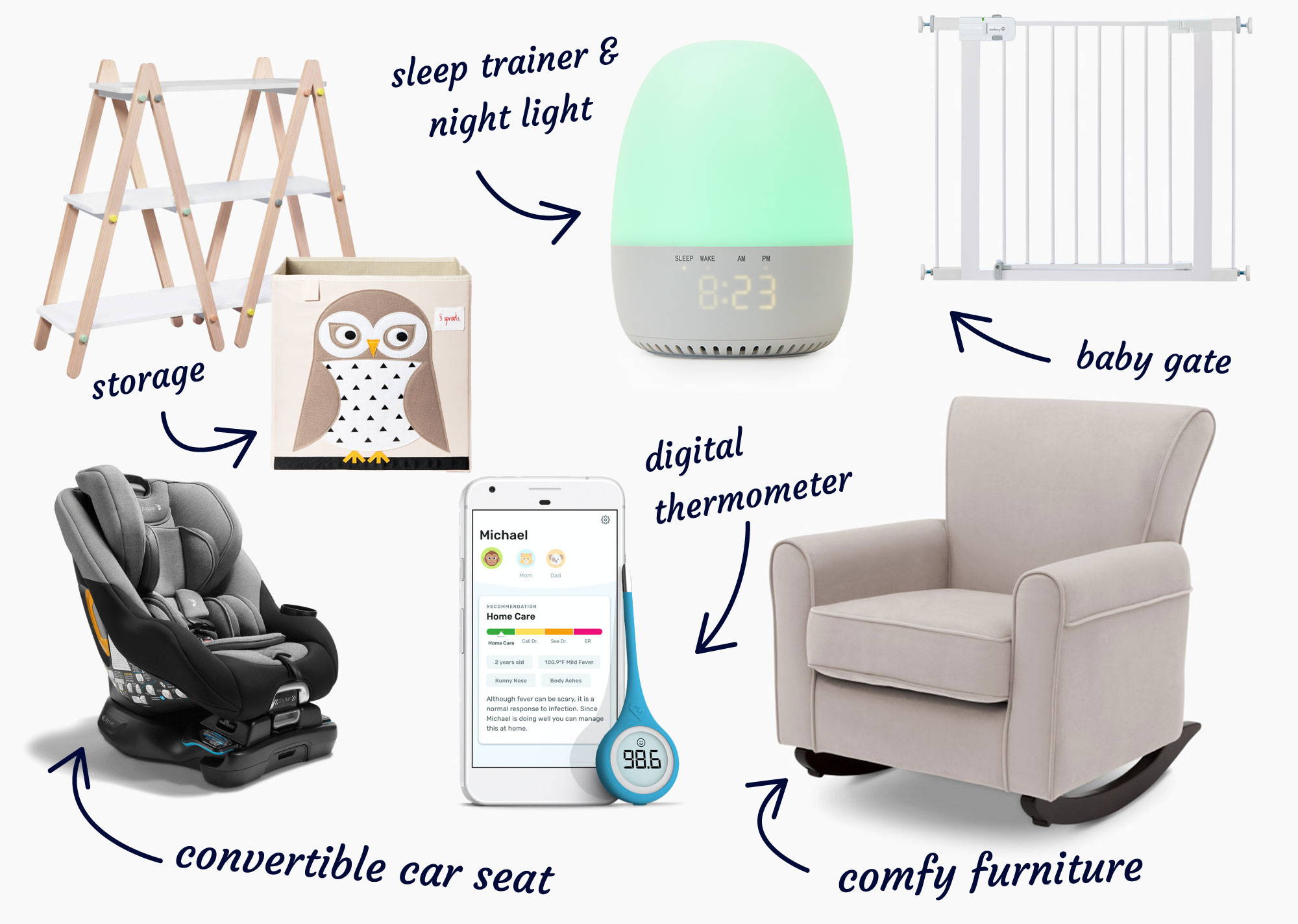 Baby Registry Items that Evolve with Your Child's Needs
As your baby grows and evolves, you'll want to make sure you have a few essential items on hand that will grow and evolve with them. A comfortable chair, such as a glider or rocker, is a great place to sit and bond with your little one, and it will come in handy as a spot to relax and read stories as your child gets older.  
Sturdy storage is another important addition—you'll want to have a place to keep toys, clothes, and other items organized and out of sight. A convertible car seat is a smart investment that will grow with your child from infancy to toddlerhood, and a digital thermometer is a must-have for quickly and accurately checking your child's temperature (or your own!). A baby gate is a handy tool for keeping your little one safe and contained in certain areas of the house, especially as they gain more independence.  
When it comes to developing healthy sleep habits, the Light to Rise sleep trainer and white noise machine is an excellent choice. This sleep trainer helps to establish a consistent bedtime routine and encourages your child to fall asleep independently, setting the stage for better sleep from an early age, an essential skill as they grow and develop. 
No matter what your parenting style is, these products will help you create a safe and comfortable environment for your baby. We know that the best baby items make your life as a parent a little easier and allow you to focus on what matters most: bonding with and caring for your little one. So be sure to add these items to your 2023 baby registry and get ready for an exciting and fulfilling journey into parenthood!  
If you have used any of these products, want more recommendations, or have your own favorite baby gear to share, let us know on our Instagram! 
---
Follow us on Instagram @yogasleepusa