Have you ever noticed that the gentle rumble of an airplane engine or the steady sound of rainfall can help you relax and drift off to sleep? If you're a parent, maybe you've noticed that the sound of the vacuum cleaner seems to instantly soothe a fussy baby.
This type of sound is known as brown noise, which produces a low-frequency rumble that's similar to the sound of thunder or ocean waves.
Brown noise has taken center stage in recent years. #brownnoise has 106.9M views on TikTok, for a good reason. The static-y sound neutralizes higher-pitched sounds and encourages relaxation and sleep. People have even started using brown noise machines in their homes and offices to help reduce stress levels and improve focus.
But what exactly is brown noise, and how can it help you? Here we explain brown noise, its benefits, and how you can incorporate it into your everyday life for improved sleep, relaxation, and focus.
WHAT IS BROWN NOISE?
We've all heard of white noise as a tool for better sleep, but have you heard of brown noise? Brown noise is the next big thing in soundscaping, offering a deeper and more powerful sound than white noise.
While brown noise is still a form of "noise," it's deeper in tone with a more natural sound than white noise. Brown noise produces a low-frequency rumble that's less jarring, better neutralizes higher-pitched sounds, and provides a soothing feeling of calm and focus. Think of it like a lullaby for adults, without the nursery rhymes.
THE SCIENCE BEHIND BROWN NOISE
The magic behind brown noise lies in the human ear and its ability to perceive different frequencies of sound. The cochlea fibers in our inner ear are sensitive to different frequencies, which allows us to hear sounds within a certain range. Higher frequencies sound higher in pitch and lower frequencies sound deeper.
What if you could hear every frequency the human ear can detect all at once? That's brown noise.
Brown noise is named after Scottish botanist Robert Brown, who observed how pollen grains moved erratically in the water under a microscope. This is called Brownian motion, and scientists say brown noise replicates this effect with sound waves that fluctuate randomly and produce static. You could say brown noise is a chaotic soundtrack to the pollen grain's dance!
BROWN NOISE EXAMPLES
So what exactly does brown noise sound like?
It's a sound you've likely heard before, as brown noise is all around us in both natural and artificial forms. Here are some of the brown noise examples you might already be familiar with:
The low rumble of thunder
Rainfall on a tin roof
A running washing machine
Fan noise from an air conditioner or ventilation system
A vacuum cleaner in action
The steady drone of an airplane engine
A running stream or waterfall
The sound of wind rustling through leaves
You can also find brown noise specifically designed for therapeutic use, such as in sound machines, noise apps, and online videos.  
WHAT'S THE DIFFERENCE BETWEEN WHITE AND BROWN NOISE?
White noise and brown noise differ primarily in their frequencies. While both types of noise contain all frequencies the human ear can hear, white noise has an equal distribution of frequencies. That's where it gets the color name "white" — because the full range of sound is equally heard, just like the full spectrum of light appears white.
When you reduce the higher frequencies in white noise, you get pink noise. All the audible sounds are still there, but the lower frequencies become amplified. When you reduce the high frequencies even further, the result is brown noise.
Brown noise has more low-frequency components than high-frequency ones, making it deeper and more robust. This means it sounds smoother and more natural to the human ear than white noise, which is sharp and higher pitched. 
WHITE VS. BROWN NOISE EXAMPLES
Both white noise and brown noise are present in very different ways in our daily lives. Our natural environment is full of brown noise — it's the sound of thunderstorms, running water, wind, and more. White noise, on the other hand, is often artificial. It's produced by machines or electronics such as fans from air conditioners, washing machines, and vacuums. 
As a result, white noise and brown noise can be used for different purposes. White noise is most often used to mask disruptive noises. Because the sound is distributed across all frequencies, it does an excellent job of muffling sounds. This makes it great (and scientifically proven!) for masking environmental noises and improving sleep.  
Although brown noise can also be used for sleep, it's more commonly used for relaxation and concentration. Many people find brown noise more calming and easier on the ears than white noise. This makes it an excellent option for reducing stress, improving focus, and creating a pleasant background soundtrack for study or work sessions.
HOW CAN BROWN NOISE HELP YOU FOCUS? 
Have you ever tried to study or work in a noisy environment? It's like trying to build a sandcastle on a windy beach — it's nearly impossible to focus when you're surrounded by distractions. 
Thankfully, scientists have made some exciting discoveries in the last few decades about the effects of colored noise on the brain. Studies show that sounds like white noise, brown noise, and pink noise positively affect focus and productivity. 
Although the specific effects of brown noise in particular still need further study, brown noise is receiving rave reviews all over the internet for its benefits on concentration and learning. Just a few of acclaims brown noise has received include: 
Improved work focus and productivity
Enhanced logical thinking and problem-solving skills
Increased learning capacity
Reduced stress levels
These concentration-boosting effects make brown noise the ultimate study buddy and concentration aid. Just scroll through TikTok or YouTube — you'll find plenty of "study with me" videos featuring brown noise in the background.   
CAN BROWN NOISE HELP WITH ANXIETY OR ADHD?
Studying isn't the only area where people find brown noise helpful. Another look at TikTok reveals plenty of rave reviews about brown noise for managing anxiety and ADHD and other mental health benefits. 
But does the new "it" thing actually work for mental health? The science is still emerging, but early research does show some promise.  
Psychologists agree that brown noise could work for ADHD, partly because of an ADHD-specific theory called the optimal arousal theory. According to this theory, people with ADHD need a balance between stimulation and calming factors to function efficiently. Brown noise provides that balance by eliminating distractions and providing just the right amount of stimulus.  
The effectiveness of brown noise for other mental health issues, such as anxiety, is still being studied. But anecdotal evidence suggests that brown noise can benefit general relaxation and stress reduction. Social media users claim that it helps their brains to feel calm, like taking a chill pill to turn off the chatter in your mind.
WHAT ABOUT BROWN NOISE AND SLEEP? 
Put down the sleeping pills — while white noise may be more commonly associated with sleep aids, brown noise can be equally effective. 
Some think the benefits of brown noise for sleep may actually be greater than those of white noise. Many people find brown noise to be more soothing and less disruptive than white noise — its natural sound qualities make it easier on the ears and create a lullaby-like feeling. Brown noise also has low frequencies that are helpful for calming the mind and body, making it easier to fall asleep. 
What's more, brown noise can provide relief for those who struggle with tinnitus or ringing in the ears. Many people report that the lower frequencies of brown noise are beneficial in masking their symptoms, making it easier to get a good night's sleep. Science agrees — research shows significant improvement in tinnitus symptoms with colored sound. 
WHICH SOUND MACHINES HAVE BROWN NOISE?
If you're interested in trying brown noise, we've got you covered. From the classic sound machine to child-friendly options, we have plenty of brown noise sound machines at Yogasleep. Here are some of our favorites:
DUET WHITE NOISE MACHINE WITH NIGHT LIGHT AND WIRELESS SPEAKER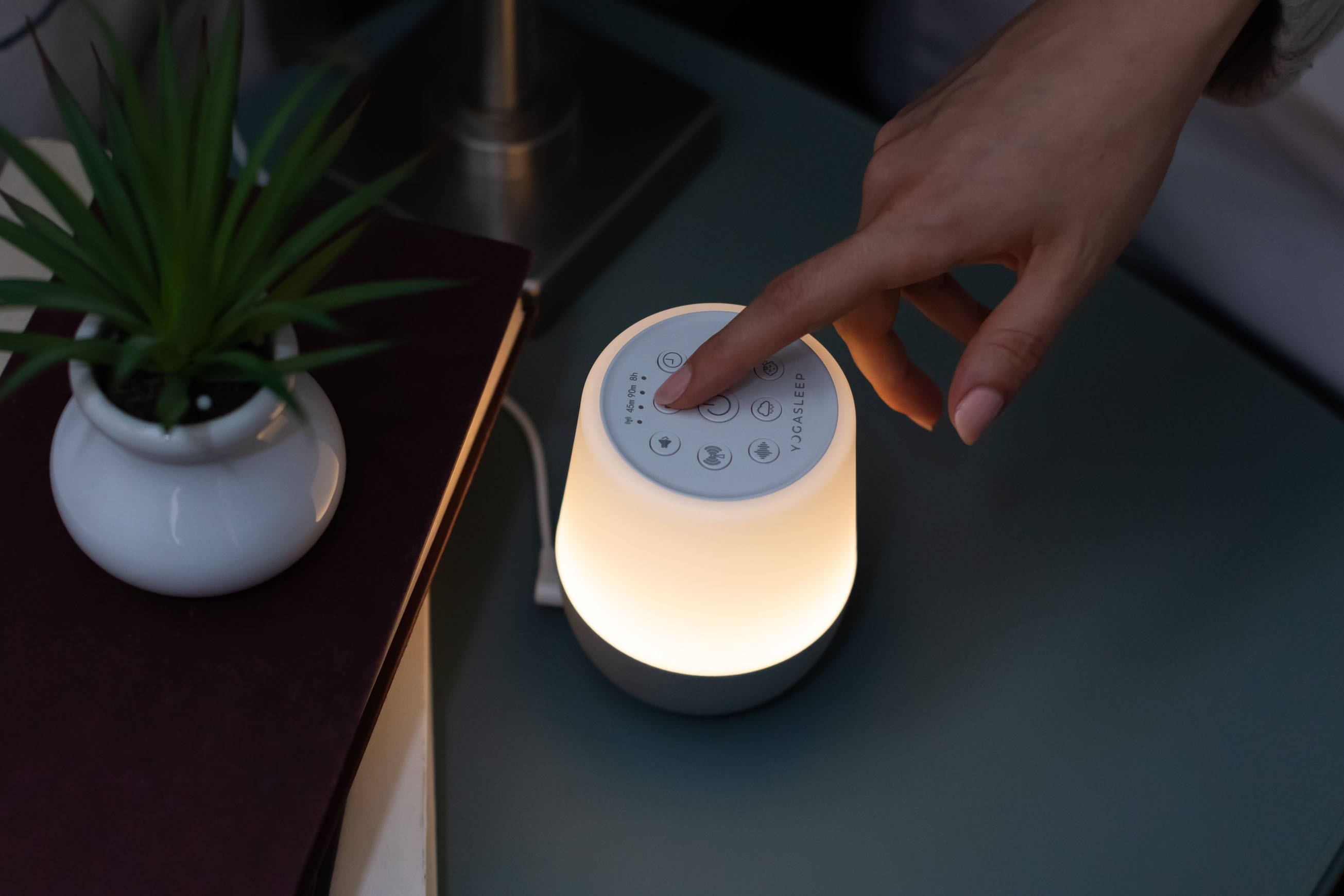 With its multi-sound machine and night light, the Yogasleep Duet is the perfect sleep companion. Stream your favorite sleep soundtrack, podcast, or music wirelessly, or choose from 30 built-in sound options, including white and brown noise, nature sounds, and 8 lullabies. With a soft, dimmable night light in amber tones, the Duet aids in calming sleep cycles rather than disrupting them. The sleek and compact design blends seamlessly into any room, leaving you feeling like you have your own personal sleep concierge. 
TRAVEL MINI SOUND MACHINE WITH NIGHT LIGHT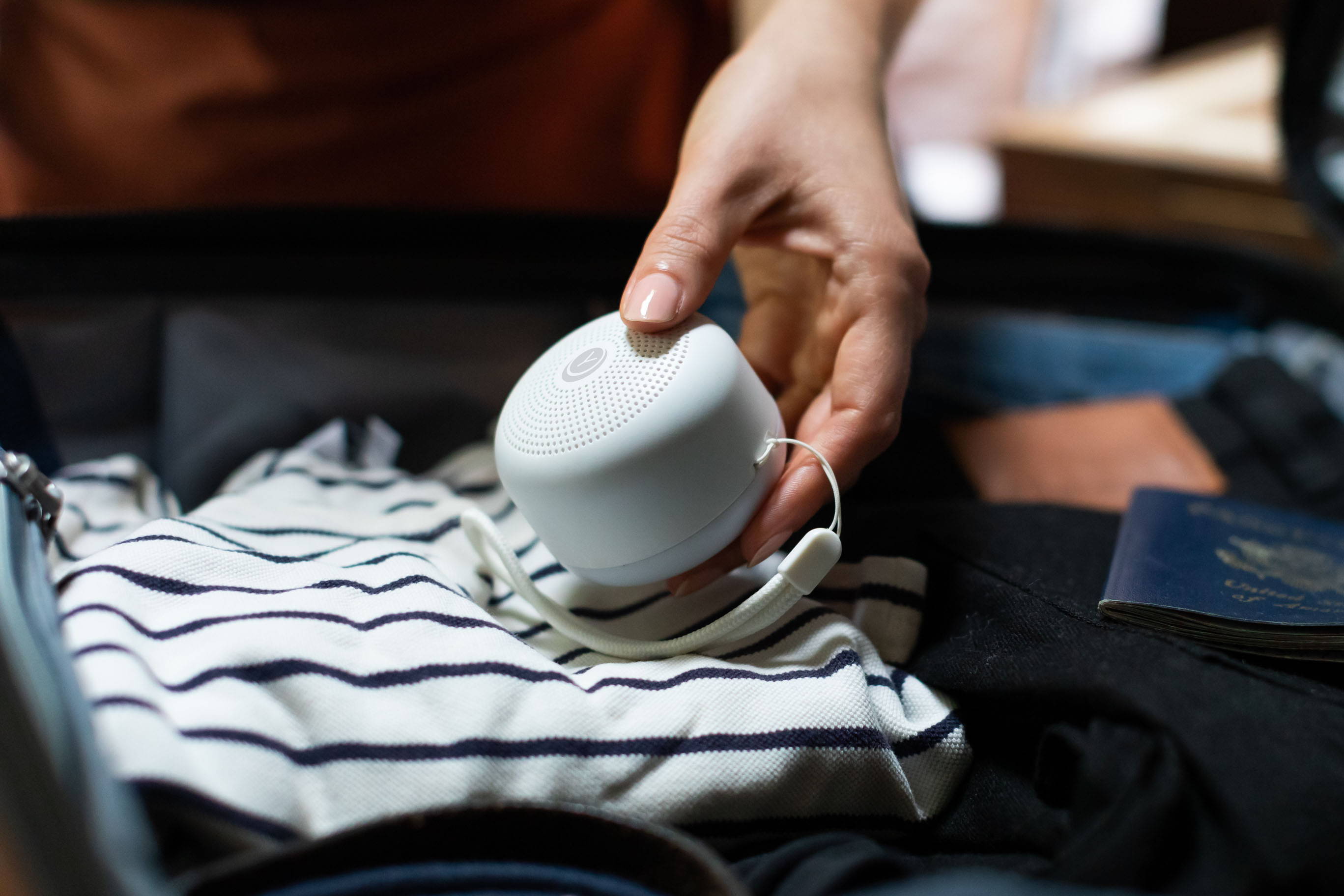 The Yogasleep Travel Mini is the ultimate sleep companion for travel. Slim and lightweight, this pocket-sized device combines six noise options, including white and brown noise, with a night light. Thanks to its small size, USB charger, and lanyard, this is the ideal device for travel or for use in small spaces at home, such as a bedroom or nursery. 
DREAMCENTER WITH NIGHT LIGHT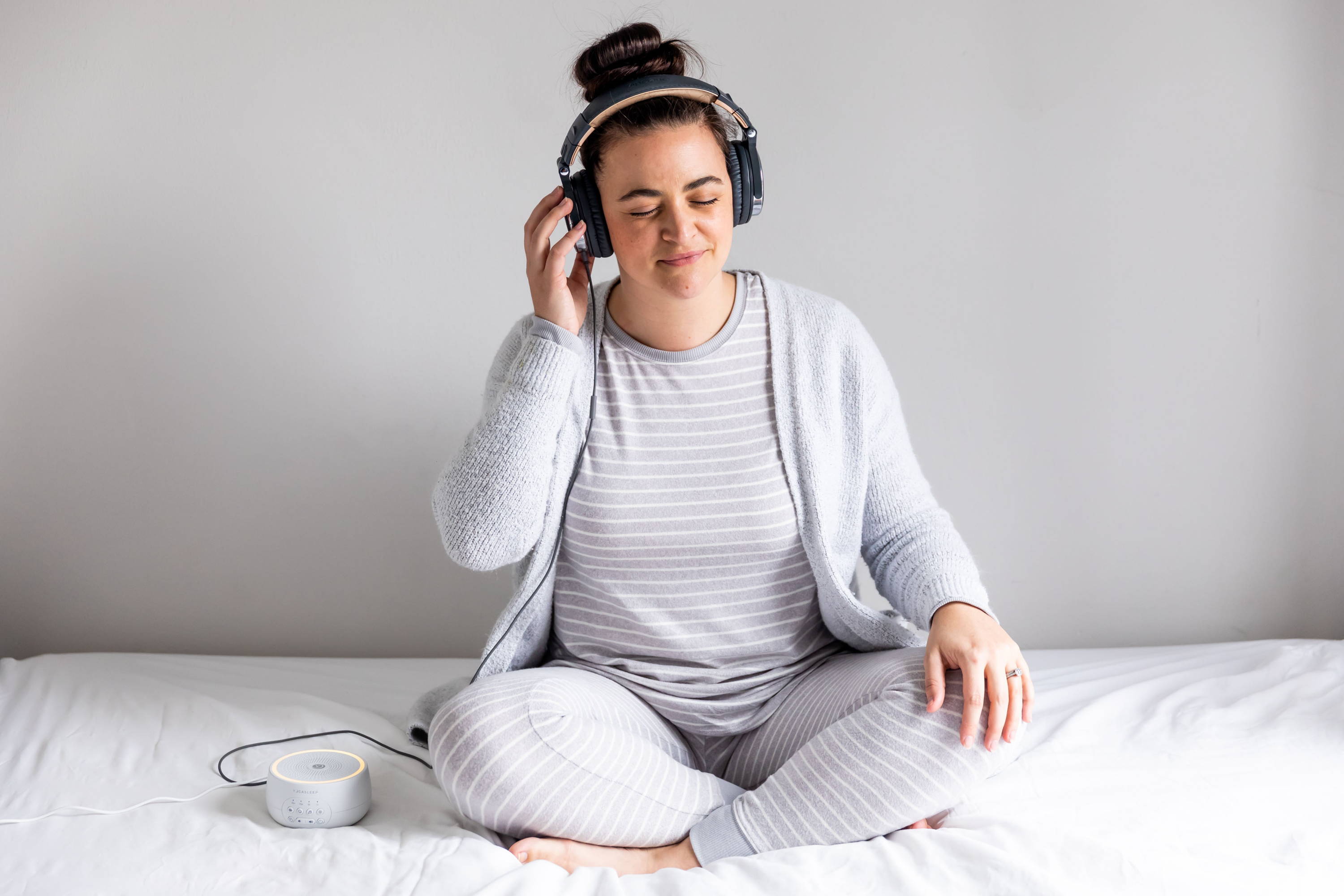 The Yogasleep Dreamcenter is the ultimate sleep companion for a peaceful night's sleep. The compact unit has 26 sound effects, including white and brown noise, sleep songs, and nature sounds. The color and intensity of the night light ring can be adjusted with a spectrum of colors or a warm-amber glow. It's the perfect way to drift off into a peaceful sleep. 
SOUNDCENTER WHITE NOISE MACHINE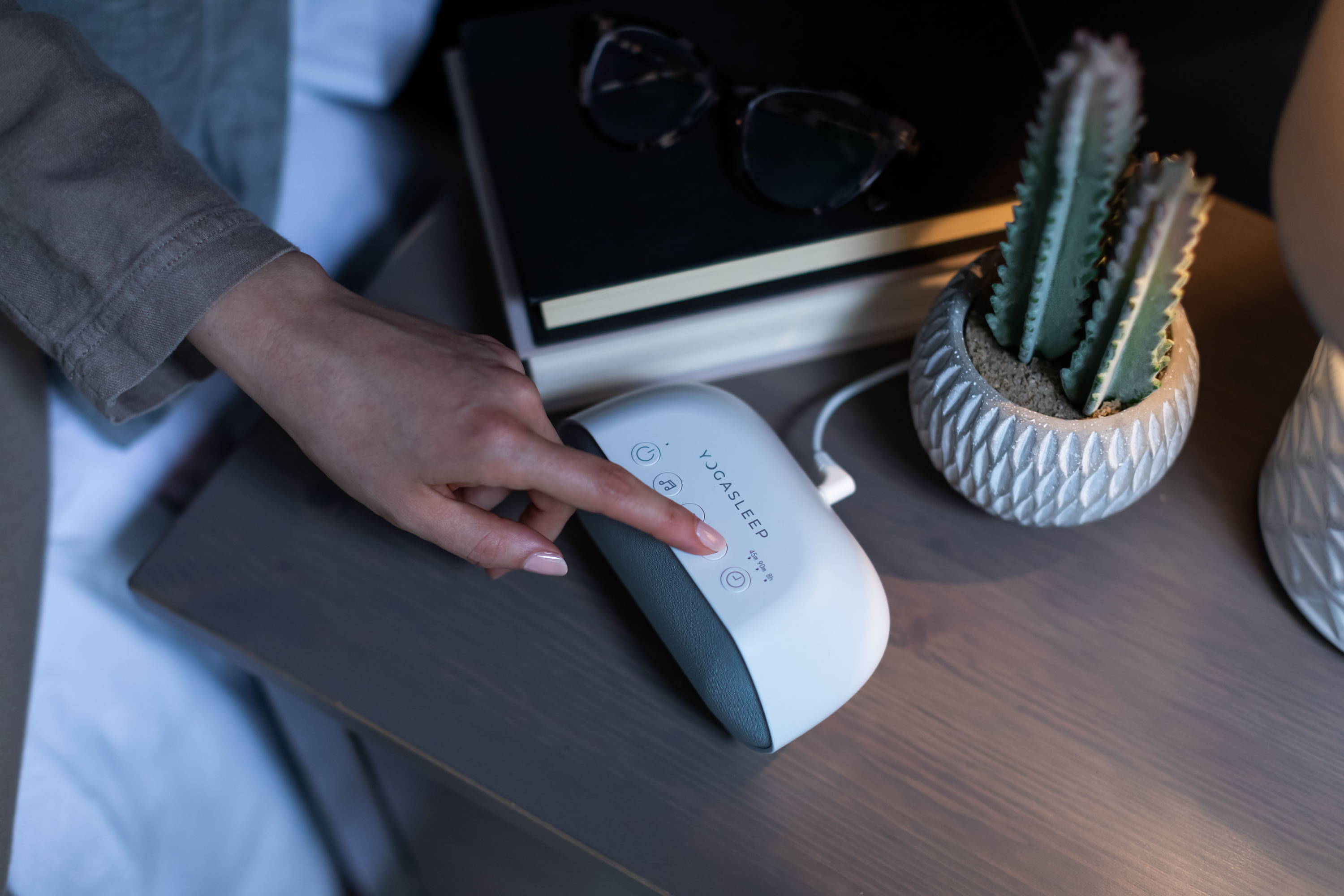 The Yogasleep Soundcenter is the perfect sleep companion for those who love simplicity. This budget-friendly option has white and brown noise as well as nature sounds to help you fall asleep faster and get a better night's rest. With a minimalistic design that suits any bedroom or nursery, it's not only a great addition to your sleep routine but also an excellent gift for weddings, baby registries, and office exchanges. 
POCKET BABY SOUND SOOTHER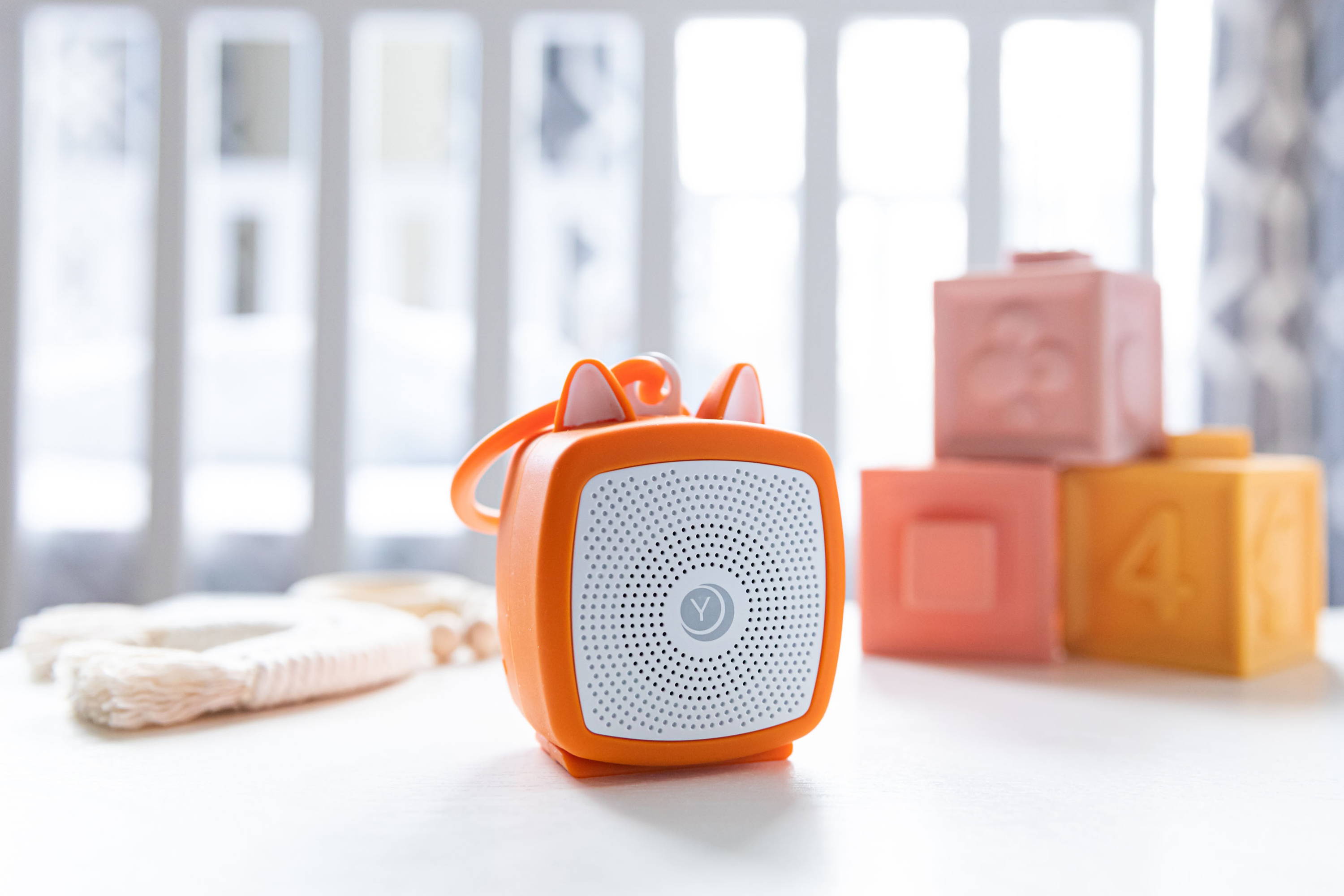 The Yogasleep Pocket Baby Soother is a must-have for any parent. This powerful tool helps your little one fall asleep faster and stay asleep longer by blocking out external noise. The adorable, child-friendly penguin design is made from food-grade silicone and features 6 soothing sounds, including white noise, brown noise, and lullabies. The sleep timer options, baby-safe clip, and removable, dishwasher-friendly cover make it easy to take this portable white noise machine with you on the go. It's the perfect addition to your baby's sleep routine, designed with safety in mind. 
SLEEP LIKE A BABY AND FOCUS LIKE A BOSS WITH BROWN NOISE 
Brown noise is all the rage, and for a good reason. The deep, soothing noise can help promote better sleep, reduce stress and anxiety, and help you stay focused throughout the day. Whether you're looking to improve your sleep routine or create a cozy space for productivity, brown noise is the perfect solution. 
With Yogasleep's brown noise sound machines, you can take control of your sleep and focus, so you can feel rested and ready to tackle whatever comes next.
Follow us on Instagram @yogasleepusa