A good night's sleep is essential for overall health and wellbeing. The right mattress can make all the difference in getting the quality sleep you need to feel refreshed and ready for the day ahead. It provides support for your body, helps with spinal alignment, and can relieve pressure points that can cause discomfort and disrupt your sleep. With so many options available, choosing the right mattress can be a challenge. Here, we guide you through the three different types of Yogabed mattresses, and help you choose the bed that is the best for your specific needs.  
How to Choose Between Memory Foam, Gel, or Hybrid
Mattresses come in all shapes, sizes, and materials, sometimes making it difficult to choose the right one. Three popular options are memory foam, gel memory foam, and hybrid mattresses. Each type offers different benefits and features, making it important to understand the pros and cons of each. Whether you're looking for pressure relief, support, or a combination of both, we'll help you find the mattress that's right for you.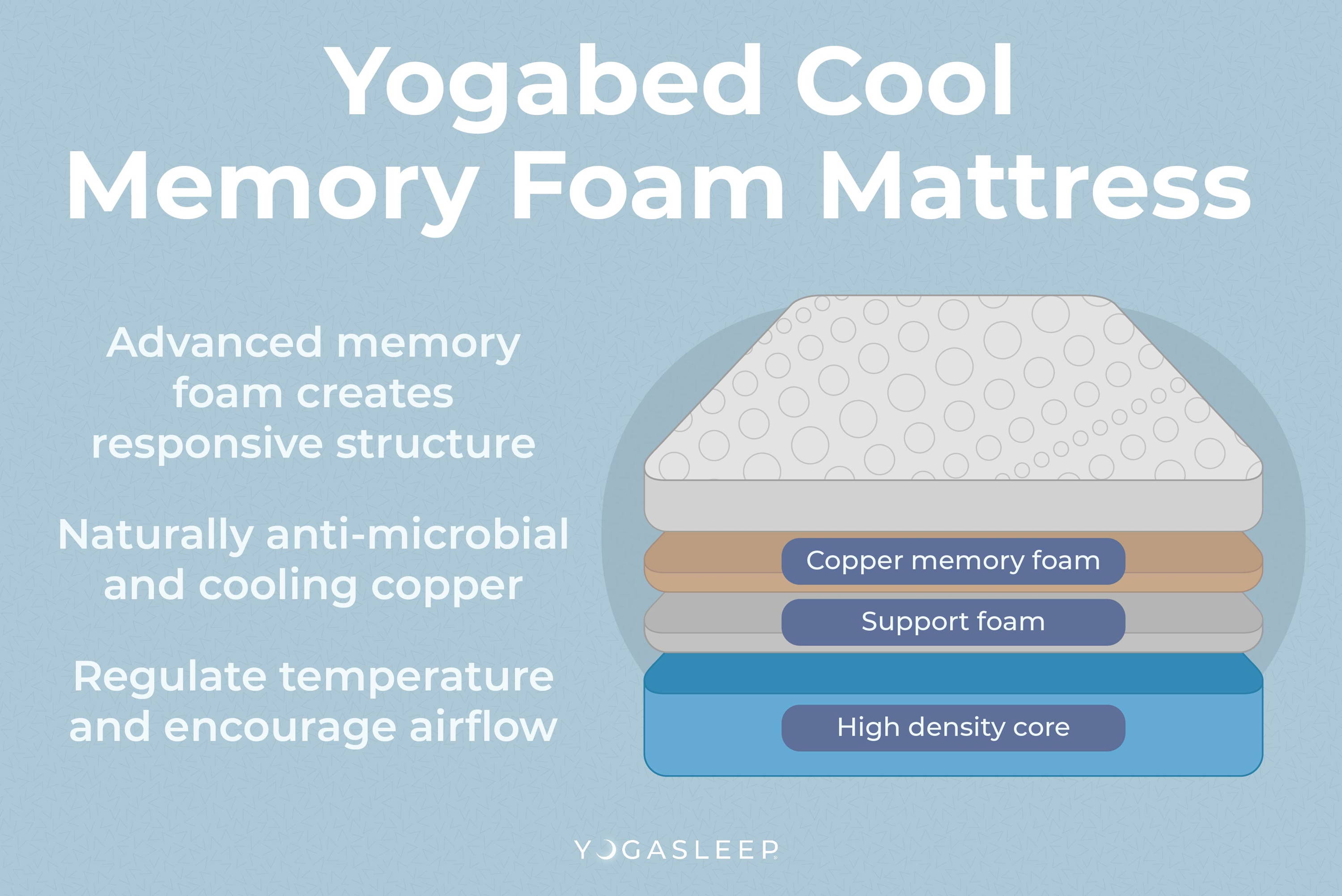 Memory foam is a type of foam that conforms to your body shape and provides pressure relief. It's great for people who need extra support, especially for side sleepers, as it cradles the body and minimizes pressure points. However, some people find that memory foam traps heat, so if you sleep hot, you'll want to pay attention to the materials and construction of the mattress you're considering.  
Pros: 
Limits transfer of movement around the best

 

Conforms to your body for pressure relief

 

Provides firm yet comfortable spinal support

 

Budget-friendly

 
Cons: 
Regular memory foam mattresses can run hot

 

Dense foam is heavy and difficult to move

 
The Yogabed Cool Memory Foam Mattress helps to eliminate the issue of memory foam trapping heat, thanks to its copper-infused memory foam (which we will discuss in more detail later.) This affordable mattress option is twelve times cooler than the competition and provides the necessary support for a perfect night's rest.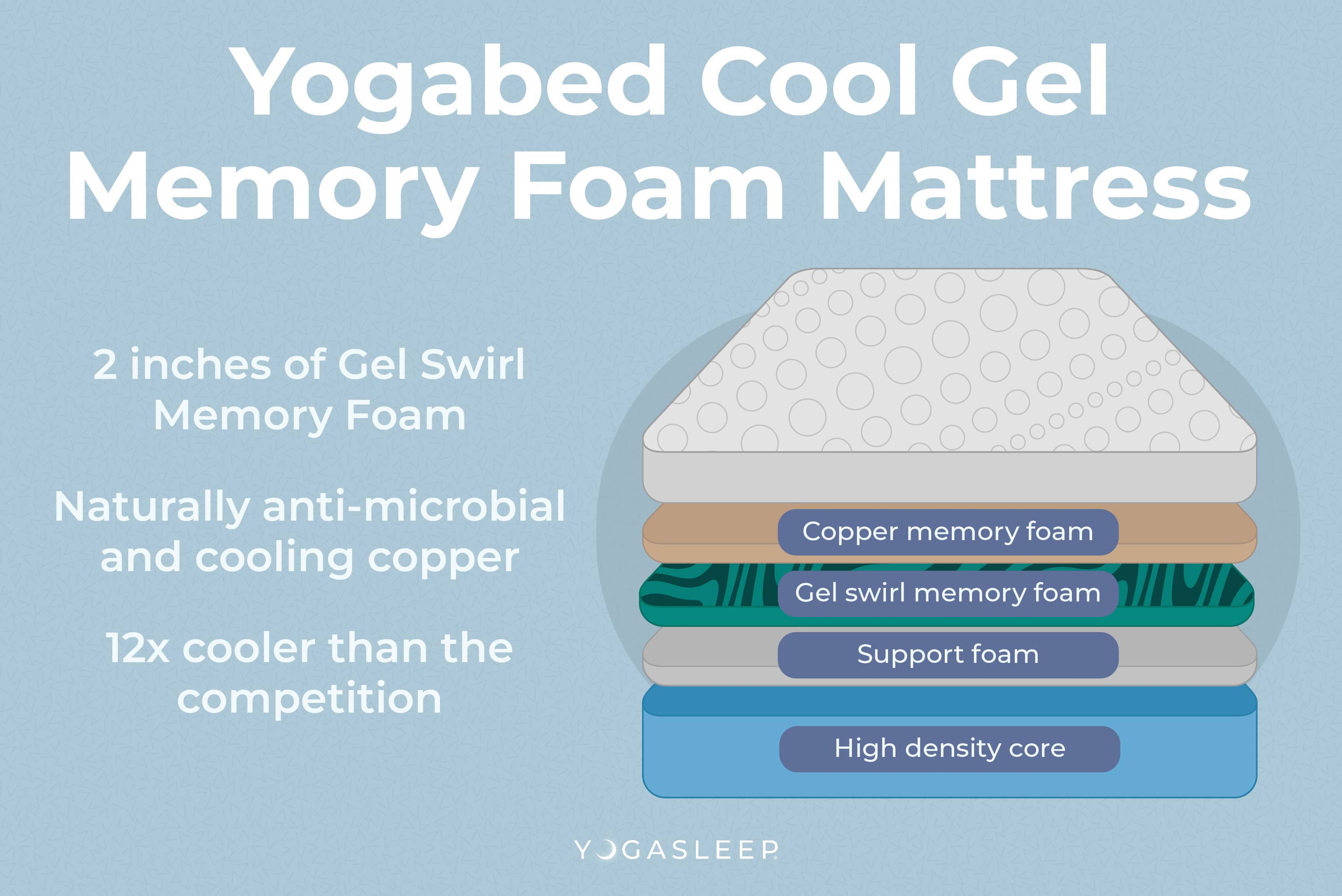 Pros: 
Cooler sleep surface than memory foam alone

 

Molds to your body to relieve pressure points

 

Provides all the same benefits as regular memory foam

 
Cons: 
More expensive than memory foam alone

 

May have a chemical smell until it is aired out

 

Can be bulky and hard to move

 
Yogasleep's Yogabed Cool Gel Mattress provides all the benefits of our copper-infused memory foam mattress, plus two inches of Gel Swirl memory foam that provides support and additional cooling. The combination of cooling gel and heat-reducing copper provides the cool-as-a-breeze, deep and restorative sleep you've always dreamed of. But don't just take our word for it — The Sleep Doctor recommends the Yogabed Cool Gel mattress, not only for its "breathability and temperature control," but also its strong pressure relief and motion isolation.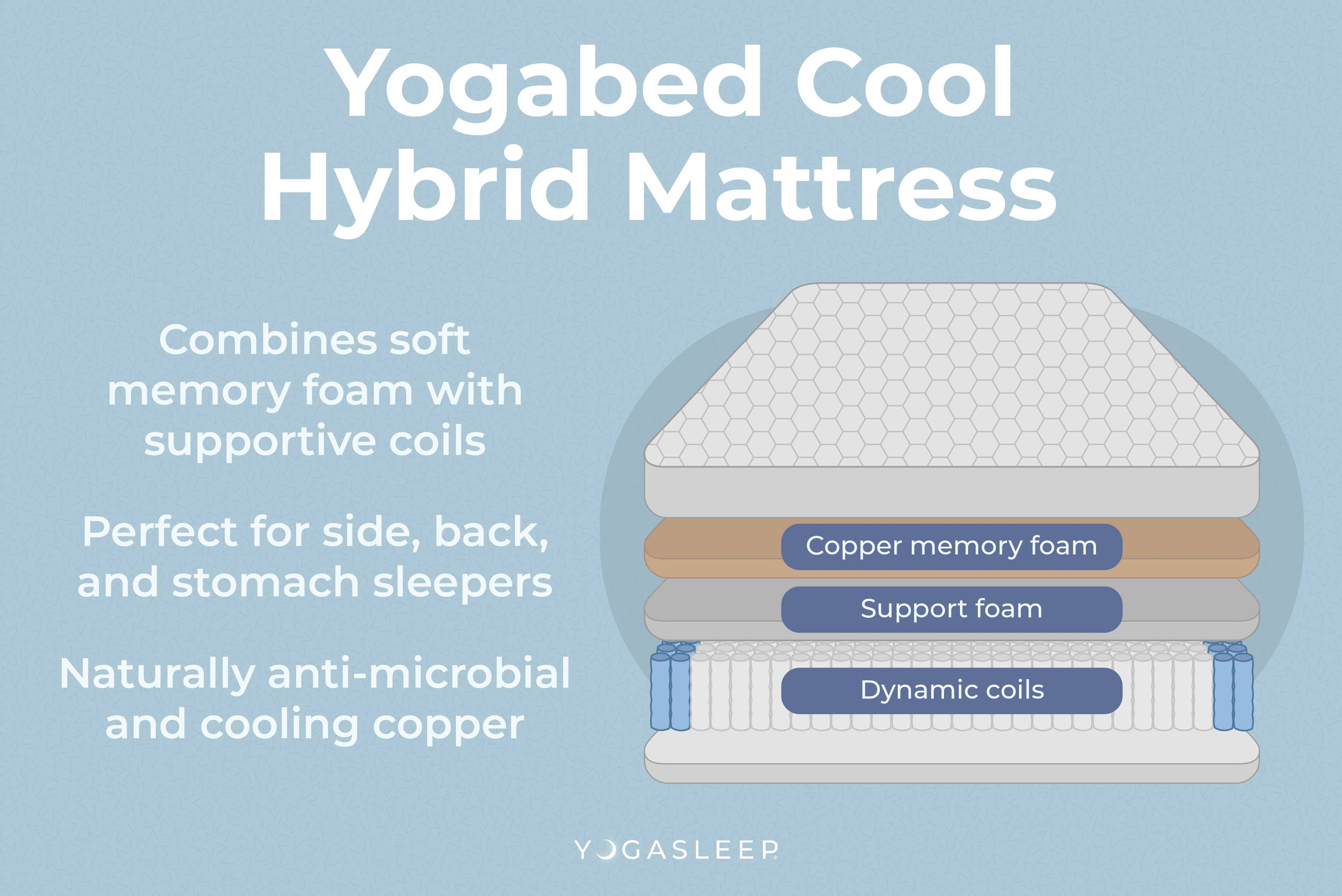 A hybrid mattress combines memory foam with innerspring coils. The memory foam provides pressure relief, while the coils offer support and bounce. The coils also help with air flow, making a hybrid mattress an excellent choice for those who want the best of both worlds: comfort and support. 
Pros: 
More advanced support for various sleeping positions

 

May last longer than a traditional memory foam mattress

 

Coils provide more breathability

 

Strong edge support

 
Cons:  
More expensive than the average mattress

 

More susceptible to motion transfer due to springs

 

Can be noisy if coils wear down over time

 
The coils of the Yogabed Cool Hybrid mattress provide a supportive and bouncy base, while the foam comfort layers contour to the body and reduce pressure points. This combination of materials can help minimize the amount of tossing and turning during the night, promoting deeper sleep, and reducing restless movements. With a balanced combination of support, comfort, and cooling, the Yogabed Cool Hybrid mattress is an effective solution for restless sleepers who struggle with discomfort and overheating during the night. 
When choosing between memory foam, gel, or hybrid mattresses, it's important to consider your sleep preferences and needs. Consider how you sleep (back, stomach, side), any pressure points you have, and how warm you get at night. The right mattress will provide the comfort and support you need to get a good night's ZZZs. 
Best Mattress for Types of Sleep Issues
Getting a good night's sleep is essential for overall health and well-being, but it can be challenging for those dealing with sleep issues such as back pain, hot flashes, or restlessness. The right mattress can play a crucial role in improving sleep quality, which is why choosing the right type of mattress is so important. 
Best for Back Pain and Joint Pain
Memory foam mattresses are often recommended for people with back pain because they provide excellent support to the spine, making the Yogabed Cool Memory Foam mattress ideal for back or joint pain. The memory foam material evenly distributes body weight, reducing pressure points and alleviating pain. Additionally, memory foam is able to provide support to the lumbar area, which is important for those with lower back pain. The contouring ability of memory foam also helps to keep the spine in proper alignment, which can reduce pain and promote better sleep. The unique properties of memory foam make it an ideal choice for those seeking relief from back pain, as it provides a comfortable and supportive sleeping surface. 
Individuals with joint pain may also find relief from memory foam mattresses as they contour to the shape of the body, providing support and reducing pressure points. This material is known for its ability to evenly distribute body weight, reducing stress on joints while maintaining support. Additionally, memory foam is also effective in minimizing motion transfer, ensuring that the movements of one sleeper do not disturb the other. The unique properties of memory foam make it an ideal choice for those suffering from conditions such as arthritis, fibromyalgia, and other chronic joint pain, offering cozy yet supportive sleep throughout the night. 
Those who sleep hot will greatly benefit from a copper infused mattress—such as any one of our Yogabeds. However, those who sleep extra hot and/or suffer from night sweats may want to consider the additional cooling benefits of the Yogabed Cool Gel or the Yogabed Cool Hybrid. The Yogabed Cool Gel Mattress features a gel swirl that provides extra cooling, while the Yogabed Cool Hybrid's coils encourage airflow, keeping you from overheating.  
Best for Restless Sleepers
Memory foam is considered the best material when it comes to preventing motion transfer. Because this material molds to an individual's body, there is usually minimal partner disturbance. This makes a memory foam mattress like the Yogabed Cool an ideal choice for those who struggle with tossing and turning throughout the night.  
Copper foam in a mattress can provide several benefits for better sleep and improved overall health. Copper is a natural thermal conductor, which means it helps regulate body temperature and can keep you cool while you sleep. The copper in the mattress works by drawing heat away from the body and dispersing it, keeping the sleep surface cool. Copper also has antimicrobial properties that can help prevent the growth of bacteria, fungi, and other microorganisms, promoting a clean and hygienic sleeping environment. If you struggle with night sweats or a hot sleeping environment, a copper infused mattress may help provide the comfort and coolness needed for a better night's sleep. 
All three of our Yogabeds utilize copper technology, so you're sure to get breezy sleep no matter which mattress you choose. 
Eco-Friendly Benefits of Yogabed
All Yogabeds are CertiPUR-US certified. This means that they are made without the following:  
Ozone depleters

 

PBDEs, TDCPP, or TCEP ("Tris") flame retardants

 

Mercury, lead, and heavy metals

 

Formaldehyde

 

Phthalates regulated by the Consumer Product Safety Commission

 

Low VOC (Volatile Organic Compound) emissions for indoor air quality (less than 0.5 parts per million)
You can read more about the CertiPUR-US certification process here. 
A Good Night's Sleep Awaits
In conclusion, there is no one-size-fits-all solution when it comes to choosing a mattress. The best option for you will depend on your individual needs and preferences. Yogasleep offers a 101-night sleep trial that lets you test out your new mattress, worry-free. We'll also deliver your new bed directly to your door, saving you the hassle of going mattress shopping in person. If you're in the market for a new mattress, consider a Yogabed for its combination of comfort, support, and quality. With their unique designs and materials, the Yogabed Cool, Yogabed Cool Gel, and Yogabed Hybrid mattresses are great options for those seeking a good night's sleep.  

---
4 layers of copper-infused memory foam

contour to your body

12x cooler than competition

 

Anti-microbial copper provides a cleaner sleeping environment

 

Hyper-conductive copper regulates temperature; open-cell foam tech encourages airflow and transfers heat away from the body

 

Advanced memory foam creates a buoyant, responsive structure for optimal support, spinal alignment, and pressure relief

 
---
4 layers of copper-infused memory foam

 

2 inches of Gel Swirl Memory Foam provides additional cooling properties

12x cooler than the competition

 

Naturally anti-microbial copper provides cleaner sleep environment

 

Hyper-conductive copper regulates temperature; open-cell foam encourages airflow and transfers heat away from the body

Advanced memory foam creates a buoyant, responsive structure that contours to your body for optimal support, spinal alignment, and pressure relief

 
The soft, cradling comfort of memory foam + the cooling airflow from patented wrapped coils

 

Ultimate support

r

educes pressure points and tossing and turning

 

Independent coils adjust to your body's unique shape for personalized pressure relief and comfort

 

12x cooler than the competition

 

Naturally anti-microbial copper provides cleaner sleep environment

 

Hyper-conductive copper regulates temperature; open-cell foam encourages airflow and transfers heat away from the body

Advanced memory foam creates a buoyant, responsive structure that contours to your body for optimal support, spinal alignment, and pressure relief

 
---
Follow us on Instagram @yogasleepusa