Baby monitors are important investments for most caregivers. But with so many baby monitors on the market today, what makes Yogasleep Baby's Ohma All-in-One Monitor worth the buy? 
Ohma features a full 1080p HD camera with a wide 170-degree view, digital pan, tilt, zoom, and superior night vision. These tech specs may seem complicated, but here's the deal: Ohma provides a live, high-quality video feed that lets you watch over your child closely, and in real time, to see if he or she is just fussing in their sleep or if you need to go check on them in person. Ohma uses your smartphone as the receiver, meaning you can access your baby monitor from anywhere in your home, whether you're downstairs doing dishes or working at your desk. It also means that you don't have to worry about keeping a separate receiver charged.  
Lull baby to sleep with 20 pre-set sounds, including our signature Dohm fan sound—it's been beloved for generations! The two-way intercom allows for an instant connection between you and your little one—we know that sometimes your baby just needs to hear your voice to be lulled back to sleep.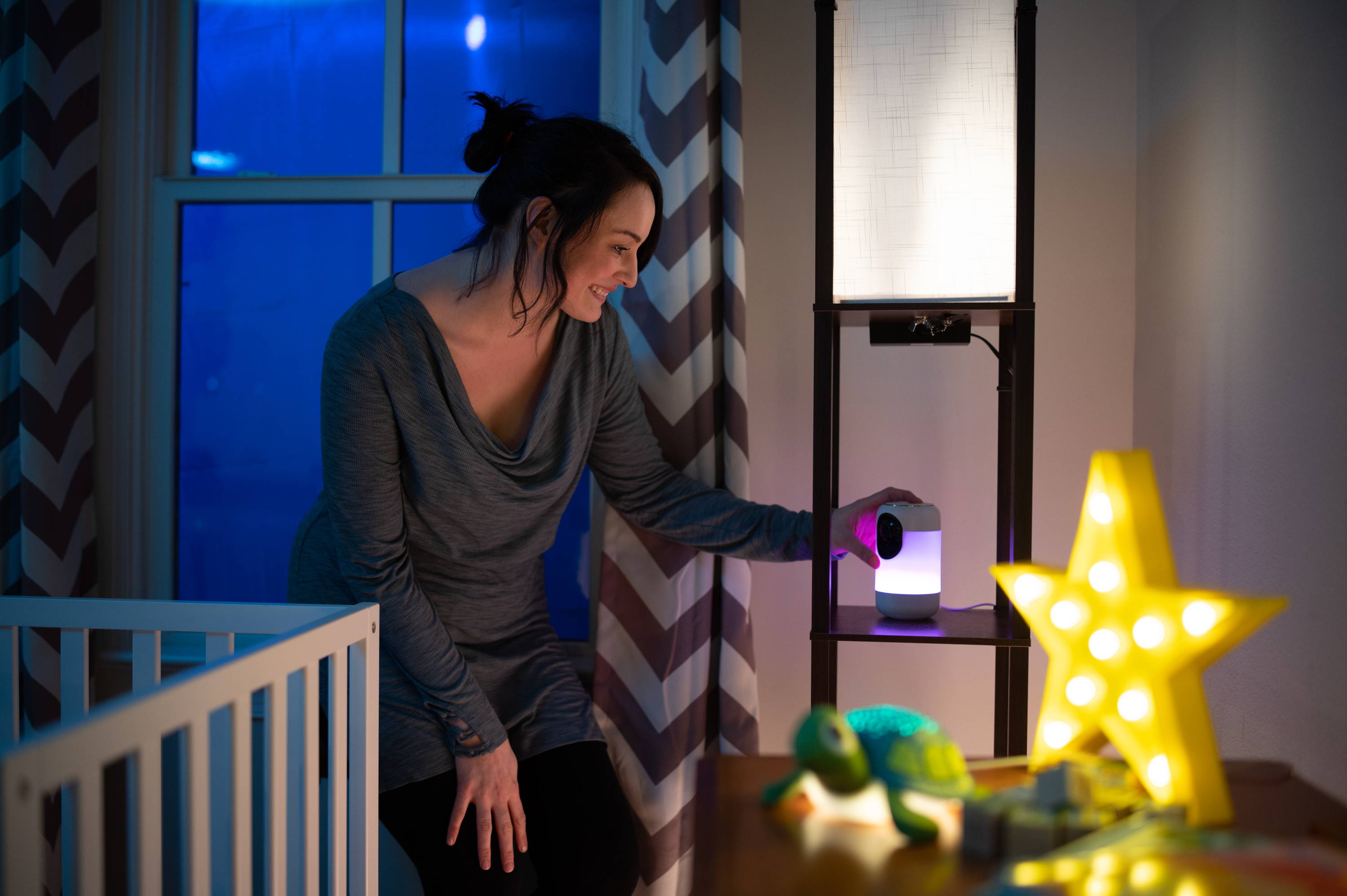 Customize Sleep Training Schedules
Ohma's multicolored night light and integrated sleep training tools can be adjusted from any distance and help your child develop good sleep habits as they advance through the stages of early development.
Sleep training is essentially teaching your child when it's time to stay in bed, and when it's okay to come out and play. Ohma helps with this by changing the color of the night light. When the night light turns from your selected color to yellow, it means that it's okay to be awake, but that your little one should stay in their room and play quietly. When the night light turns green 30 minutes later, it means that it's okay for your child to come out of their room. You can set the green light to come on at any time, letting you customize your child's sleep training routine. Ohma's sleep training feature helps both you and your child get the rest you need by keeping your little one in their bedroom for longer periods.
Know What's Happening in the Nursery
Ohma's motion, sound, temperature, and humidity notifications alert you to changes inside the nursery, letting you stay on top of what's happening where your child is sleeping. The Ohma companion app lets you customize the alert sensitivity to your child's surroundings, so you don't have to worry about being notified of a loud car passing by or the neighbor mowing their lawn.  
It's nearly impossible to find another monitor that boasts all the features of Ohma for $99.99. At a great price point, you get high-quality visuals, customized alerts, sleep training schedules, lights, sounds, and more. A solid monitor is an important investment, and Ohma lands at the perfect spot for new parents and gift-givers alike.  
---
---
Follow us on Instagram @yogasleepusa